We love her style because it's eclectic and feminine.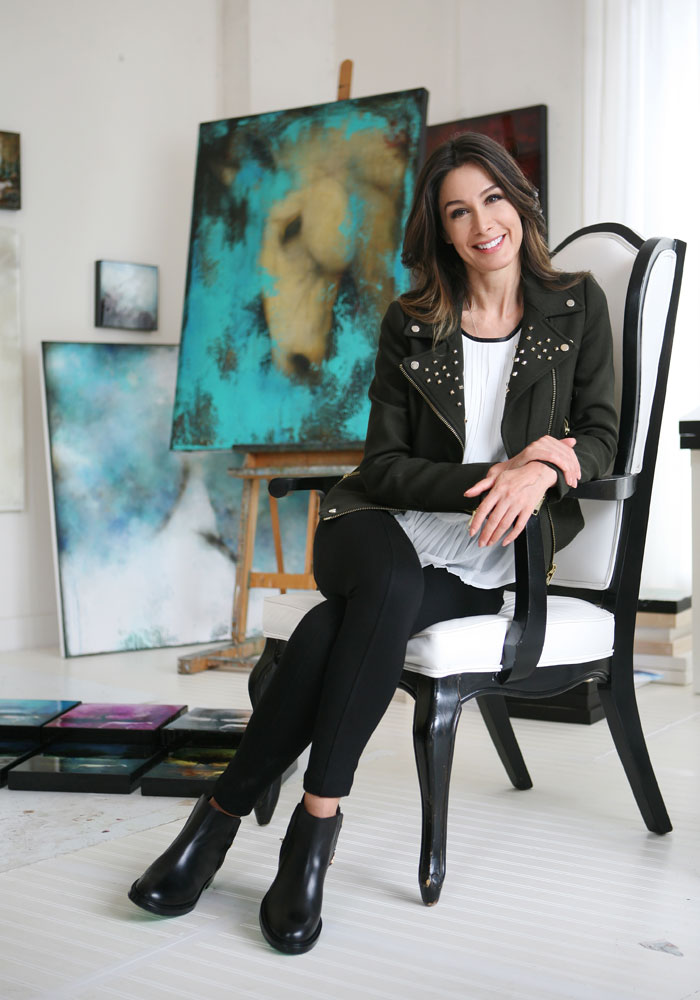 Athena Bax is a Vancouver-based fine artist who draws inspiration from the simple things in life. One look at her work and it's clear that nature is her muse: animals, flowers, trees and water, all find a place in her work. The results are stunning, so it's not surprising that her work has found a place in the homes of some famous clients. She has been commissioned to paint for former U.S President, Bill Clinton, among others. The beauty she captures on canvas is matched by her own beauty and incredible sense of style.
How do you describe your style?
I'd say it's "flexible," in that I appreciate a wide range of styles. I gravitate to pieces that are "form-fitting" and I always like to throw in something vintage. I like clothing that moves with the body. I love following the seasonal trends and trying to incorporate what I already have with some minor purchases or alterations. 
I recently took the sleeves off a Donna Karan leather coat from the late 90's and it looks like a current runway piece!
What is your approach to dressing?
I am a stickler for dressing for the occasion, but I think it's nice to add some "edge," something that says "you."
How did you decide to become an artist? 
I knew from an early age that it was a way of life for me, not just a hobby or an hour in art class, but it was in 2003 that I made the decision to paint full time. With the encouragement of a good friend and some serious introspection I decided to put faith in myself and do what many considered crazy. Painting for a living has been described as a luxury. I agree that doing what you love is a privilege in some ways, especially in this economy, but a luxury it is not. It's an extremely challenging conversation with yourself on a daily basis. I knew it would not be an easy road, but walking it, I have zero regrets. Fears are plenty, but no regrets.
How do you describe your art?
I usually describe my art as "my babies": some are sweet; some are strong; and some give me a very hard time. Visually I would say that they are moody without the sadness; colourful without the primary palette. I like to paint whatever it is that moves me when I get to canvas. Sometimes it's realism, the desire to capture the beauty of something without distortion, or the colour of water and rocks, skies and earth, melting them together and capturing the beauty that I 'feel' vs. what I see.
What is your proudest accomplishment as a fine artist?
My proudest accomplishment as an artist is when someone wants to buy a painting. There is a part of me that still lives in disbelief that people actually want to have something I made on their wall. It's humbling and I feel proud, but not in a boastful way. Extreme gratitude is the accomplishment.
Who is your style icon?
This one is a tough one to answer because there are a few of them. I love Muccia Prada. She thrills me with her fantastic mind and her story book outlook on women's fashion. The day dreamer in me loves her ideas. I love Sophia Loren and J.Lo. They are both sexy and know how to dress a body with curves. This appeals to me in a practical way. Oh, and of course, the one and only Karl Lagerfeld… the master of black clothing. It does not get better than that!
https://athenabax.com/wp-content/uploads/2015/10/sew.jpg
600
600
christianlind
https://athenabax.com/wp-content/uploads/2015/10/al.png
christianlind
2015-10-15 12:38:24
2015-10-15 12:38:24
The September